Kat and Kim

 – bulk mail experts!!!
"We are committed to providing our customers
the highest levels of quality and turnaround time"
Bulk Mail is a way to save money on postage by doing things that the US Postal Service (USPS) would otherwise do.
The savings in postage for pre-sorting and adding barcodes are passed on to you.
Mail is classified as Bulk Mail when:
*there are at least 200 pieces of mail, all facing the same direction
*each piece must weigh less than 16 oz and be identical other than the addressee
*all are going out at the same time
Bulk Mail [now officially know at the USPO as Marketing Mail] has two ways of charging postage, the indicia (permit box), which is printed in the upper right hand corner on the piece, or metering, which means printing the postage on each piece by a meter machine. Normal processing is 2-3 days once we receive your mailing list, unless you have a very unique or large job.
Permit Approval Form:  When you use a University Permit, we must have the Permit Approval Form before we can send the mail to the Post Office. The Bulk Mail Acceptance Unit at the Post Office will not accept the mail without this form. The information must be filled out on this form by the department. This form may be filled out and submitted online by clicking the link above or on our Home Page.
Bulk Mail has two different rate structures: NonProfit and Presort Standard. Nonprofit Rate must follow all rules to qualify for nonprofit.
*Must have University of Alabama on top line in return address
*Must contain university business only
*No sponsors or advertising of any kind
*The department must pay for all printing, postage and make all managerial decisions
*No joint ventures with outside companies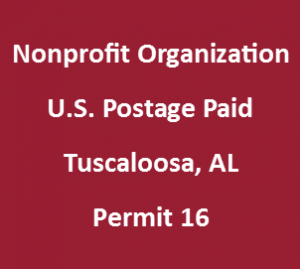 Nonprofit Indicia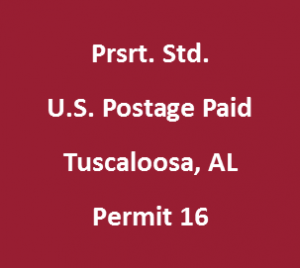 Standard Pre-sorted Indicia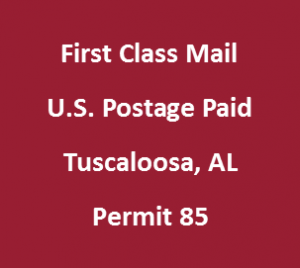 First Class Indicia
Acceptable Indicia Formats
SERVICES

Our mailing services offer cost effective ways to process your mail while achieving the biggest discounts possible from the U.S. Postal Service.
CASS certification
NCOA updating
Address standardization
Zip+4
Bar-Coding and Sorting
De-duplication
EDDM (Every Door Direct Mailing)
Addressing (inkjet)
Tabbing
Inserting (machine and/or hand)
Sealing
Metering
Labeling
Purchase Area List
We have a team second to none. Come tour our shop and talk to our people.
Please call Kim Spencer at 348-0333 for information regarding your mail piece.
Email: bulkmail@ua.edu.